Graffiti is a global phenomena that exists along the same stretch of wall as inequality and social unrest. Despite traces of its existence in every major city across the world, many assumptions are made without even speaking to the writers. These photographs are a non-judgmental look at the act, the process, and the graffiti and street artists in Brazil, which is home to the most vibrant graffiti art scene in the world.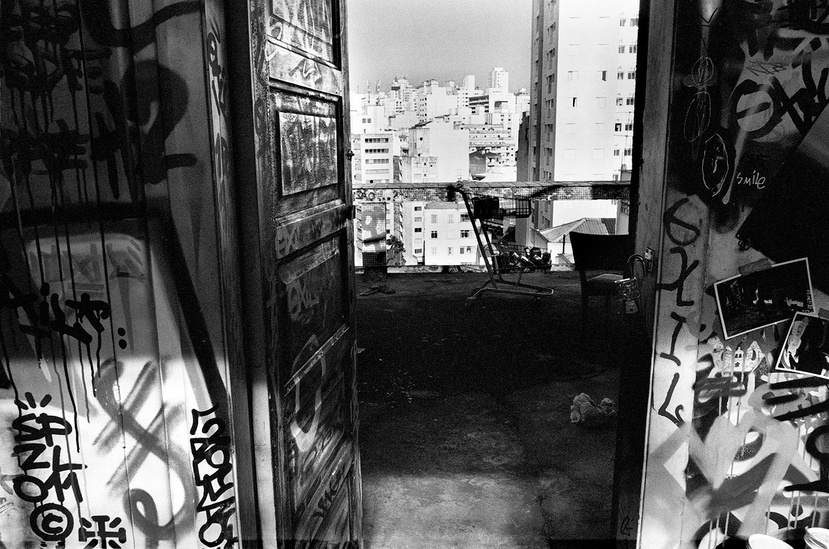 View of São Paulo from an occupied building that houses several Graffiti Artists. This is the home of Oxil.
Jhoão analyzes a sketch while smoking a joint in his studio.
Jhoão walks a ladder to a highway pillar that he is painting for the day.
An unknown Graffiti Artist participates in a large event in São Paulo called "Letter Soup" that celebrates this particular style of graffiti.
Jhoão climbs down a latter in the sunset after finishing an illegal mural that took him 6 hours to paint.
Passerby watch Gen Duarte paint on the wall out front of a toy factory.
Thiago and Gelson carry their supplies into a prohibited area to work on some larger pieces.
Apropriadamente watches for police before quickly spraying her signature name on the door beside her. "Apropriadamente" is a word she created meaning "not gender appropriate", often written in cursive to bring attention to a lack of women in the graffiti art scene.
Karina paints a playful jungle-themed mural outside of a warehouse in the industrial area of São Paulo.
Graffiti artists often get toxicity poisoning and heat exhaustion from spending long hours painting in the heat. Here, Quinho makes his own mask from his shirt.
Jhoão is questioned by police while painting a large 30 foot naked woman on a highway pillar. In general, street art and murals that demonstrate art are accepted, where tagging and pichação are seen as vandalism. Jhoão was left to continue his piece.
Feik paints the side of a house at the Projeto Revivarte as children play and the community celebrates and watches hundreds of artists paint their community.
Bones, Fabino, Nick Alive and Quinho drink beers and hang out before starting a collaborative mural in a parking lot.
Quinho paints a house for a family in an occupied area of São Mateus.
Children often flock to graffiti artists to watch and show them their art. Jhoão takes a break from painting to help a local youth with some homework. Jhoão is an art teacher at a local school.
Feik paints the side of a store in an improvised area near his home, where the residents build their homes from materials that are discarded by others.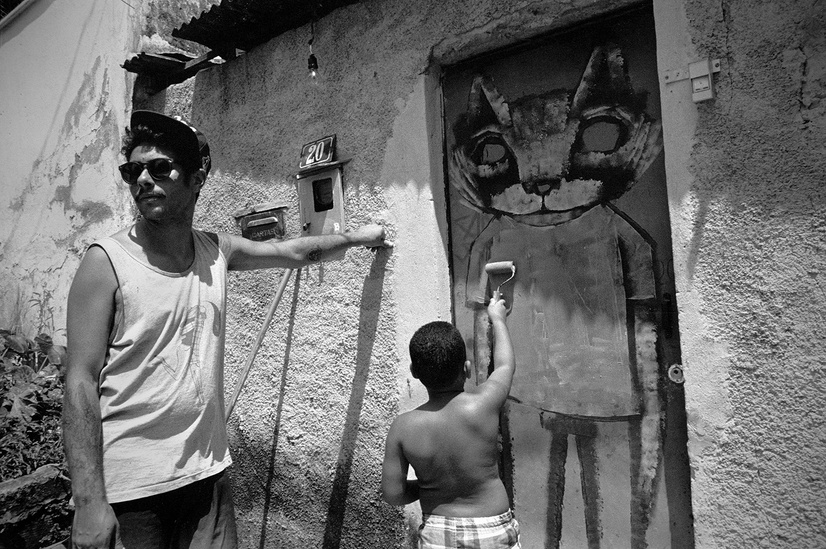 A local kid in the favela of Vila Opéraria in Rio De Janeiro learns to paint during the graffiti event, Meeting Of Favelas that sees hundreds of artists from all over the world coming to paint
Quinho and Bones paint an occupied area just outside of São Mateus where dozens of dogs roam and scavenge among the piles of debris materials looking for food.
Pimp My Carroça is an organization that fixes and decorates carts for Catadors (waste pickers) to install dignity and advocate for these individuals to collect and sort waste, looking for valuable and useful materials. Here, Quinho paints Emerson's cart as his dog jumps up to play.
Tikka takes cover from the hot sun under an umbrella as she sorts cans to paint at Meeting of Favelas in Vila Operária, a favela in Rio De Janeiro.
Thiago gets a trim from his friend, a DJ and Barber at his studio.
Thiago sleeps on the floor of a school that was opened up for Graffiti Artists participating in an event called Meeting Of Favelas in Rio De Janeiro.
Karina paints on canvas in her bedroom in São Paulo. Most Graffiti Artists make their money from painting commissioned and other pieces on canvas for private individuals and galleries.
Quinho takes a moment of reflection on the roof of an occupied building in downtown São Paulo, Brazil.